GUIDED TOUR DURING MARKET TIME
Saturday, 31 August 2019, 11:00 am
The Galerie Stadt Sindelfingen offers as usual the opportunity to enjoy art during the hours of the weekly market outside. On saturday august 31st at 11:00 am you will be able to get to know the current exhibition Utopias in Urban Societies – Identity and History during a guided tour with the exhibition's curator Madeleine Frey. At 10:45 there will be a reception with champagne.
Duration about 45min. Entry is free.
FINISAGE AND GUIDED TOUR ON THE OCCASION OF THE DAY OF THE OPEN MONUMENT – "MODERN TIMES: CHANGES IN ART AND ARCHITECTURE"
Sunday, 08 Septemper 2019, 15:00 pm
On the occasion of the closing of the current exhibition and the Day of the Open Monument the curator Madeleine Frey will guide you through the exhibition Utopias in Urban Societies – Identity and History and the Octagon, the extension built by the Berlin architect Josef Paul Kleinhues.
Following: Guided tour through the exhibition Carl Krayl from colourful to white – Paths to the Modern Age and walk to the mortuary chapel of the old cemetery Sindelfingen by Klaus Philippscheck.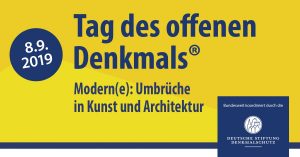 GUIDED TOURS
Complement your visit with one of our guided tours. Free guided tours, curator and special tours you can find in our programme.
Individual guided tours for groups (10 people +) can be booked here: 07031-94392.